We are so happy to share this post created by Nikki Nelson, who is a member of our Parenting Pathway Advisory Team.  She originally posted this on her own blog and storefront, Nikki's Happy Nook
There is nothing like being encouraged and affirmed as a mom, am I right? My love language is affirmation, so it is very easy for me to flock to anyone who will pay me a compliment. They can be kind of addicting.
When I began my blog and shop where I create Bible content for preschoolers at home, I decided that I needed to really get deep into the world of Instagram to promote myself and my new business. At first, it was very harmless. I would post a fun Bible game or activity I was doing with my boys that day, and people liked and commented! I began to post more, make my kids pose more, care about lighting more, and post MORE to my stories all day long.
After a couple of months, I was compulsively checking my phone. I tried to limit my screen time and delete the app, but I kept coming back to it. I felt like I needed more followers. I needed more likes. More comments. More affirmation that I was a good mom.
Through my (short) journey as someone trying to make it as a "mom influencer" on IG, let me share with you a few things I wish I would have heard before I went all in.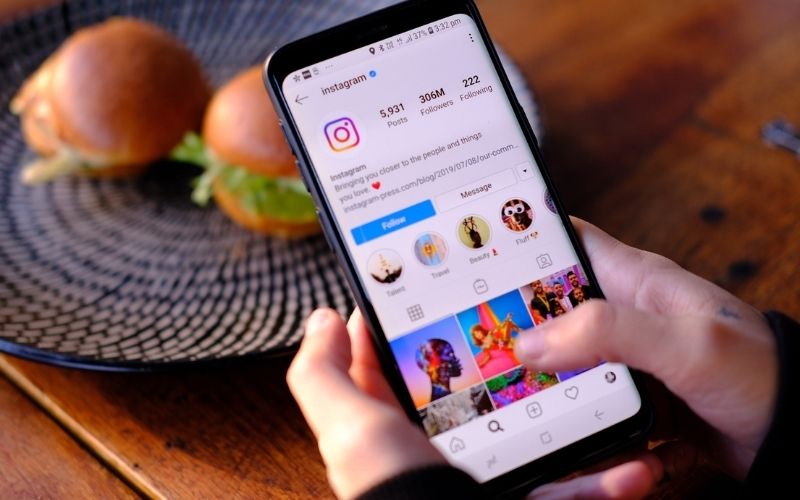 "They" create social media to be addictive.
Where you spend your time is how you show where your priorities are, and the companies who create these social media apps LOVE for you to spend all of your time on their app. They like money. They like to show you ads so they can make more of it.
Addiction Center states, "According to a new study by Harvard University, self-disclosure on social networking sites lights up the same part of the brain that also ignites when taking an addictive substance. The reward area in the brain and its chemical messenger pathways affect decisions and sensations. When someone experiences something rewarding, or uses an addictive substance, neurons in the principal dopamine-producing areas in the brain are activated, causing dopamine levels to rise. Therefore, the brain receives a "reward" and associates the drug or activity with positive reinforcement."
Every time you get that like, comment, or follow, you are rewiring your brain to find pleasure in those things. Now that IG works as a business tool as well (which can be great to find new customers), everyone is trying to get you to buy something. Everyone is promoting themselves, and it is EXHAUSTING to share every moment of your life in hopes that someone will connect with you just to buy in to what you're selling.
I was definitely addicted. My body would compulsively check those apps over and over in hopes that there would be something new to feed my self-esteem. My moods changed when I felt like my IG wasn't "growing enough" or the last post didn't get "enough likes."
Do not conform to the pattern of this world, but be transformed by the renewing of your mind. Then you will be able to test and approve what God's will is—His good, pleasing and perfect will.

Romans 12:2
Our kids are seeing how we spend our time, and they will imitate how we live.
My four-year-old was starting to dread pictures. I mean, really dread them. Every time he saw my phone, I could sense his mood change. He would act out just to pull my eyes away from the screen. He missed me, and I was missing out on precious time with him.
One of the main complaints I hear from parents is they wish their teens would not constantly check their phones. When I ask the parents how often they are on their phones, they either avoid the question or down-play their usage. I get it. We don't want to be at fault, but if we want healthy relationships with our kids (especially as they get older), we have to do the hard things to prove it. We have to get off the couch, off the phone, and into the world with them. We have to get outside (yes, where there are bugs) and learn how to explore again. We have to love others and serve with our kids. You are training them NOW to see how people treat others. If our phone is always in our face, we can't get angry when they follow suit.
"Look carefully then how you walk, not as unwise but as wise, making the best use of the time, because the days are evil. Therefore, do not be foolish, but understand what the will of the Lord is."
Ephesians 5:15-17

Friendships through IG are great, but we need to start forming relationships with the people around us.
I loved my mom community on IG. I still do. I miss seeing what they're doing and how their kids are. But at the end of the day, they weren't really my friends. They couldn't come to my aid when I really needed them or be with me in times of sorrow. They could encourage me through short messages, but they couldn't hold my hands, pray with me, and have coffee with me.
When I deleted my IG in January, I decided I would get to know my neighbors. I wanted to be extremely available to them to show I loved them because God made them and that meant they were worth my time.  I began a small women's group that meets at my house once a month, and I leave that group with my cup FULL every time. I didn't feel that way online. I needed to be in a physical room with women hearing their hearts, joys, and struggles. Not to speak for them, but I think we are all blessed to have those couple of hours together to know we aren't alone and that Jesus loves us even when we mess up.
I've started a seasonal event for my neighborhood called "Mommy and Me" where moms can meet each other, have a book read to their kids, and watch them engage in a fun activity together. This isn't a huge event, but it gives other women a chance to meet other moms who hopefully bless their lives.
Whether you believe it or not, you are CAPABLE of bringing people together. You need to. No matter if they share your beliefs or not, you are called to love them well and pray they see Jesus through you. You know where you can't do that? Online. Sure, you can share verses, your testimony, your spiritual experiences. People may even like it, but they won't be forever changed by it.
Love your neighbor today. Start something beautiful and meaningful. You can do it.
"Therefore encourage one another and build one another up, just as you are doing."

1 Thessalonians 5:11
I hope you see my heart here. In no way do I judge those mom influencers who have "made it" and are doing big things through their feeds. I really am happy for them, and some of them have shared things that have really helped me as a mom.
If you are looking into the world of "IG influencer" life, just be wary. Like starting a business, work through the pros and cons. Is it worth your time? Your energy? Would you rather spend that time engaged with your littles who will grow up too fast? Would you rather get to know the people around you who need you more than you think?
Pray about it. Lay it at the feet of Jesus. Just know you are a good mom with or without the likes. With or without the followers. You were perfectly made by a Creator who loves you and loves your kids. He loved them enough to give them to YOU!
Please reach out if you have any questions about my experience. I would love to connect with you. My e-mail address is nikkishappynook@gmail.com.
For more encouragement from Parenting Pathway, read: What Fills You: Finding Your Purpose.